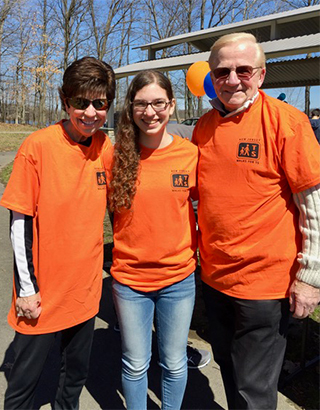 On Sunday April 2, 2017, Susan and Jack Holender had the honor of participating in NJ Walks for Tourette Syndrome, a remarkable annual event promoting acceptance, awareness, advocacy, and action for children and families living with Tourette Syndrome and its associated disorders.
Susan & Jack walked through New Jersey's beautiful Mercer County Park and interacted with other enthusiastic participants during this fun filled day of empowerment for kids, by kids, and about kids.
Initiated and coordinated by NJCTS (New Jersey Center for Tourette Syndrome and Associated Disorders), this event offers participants a chance to stand up and step out to break the stigma attached to TS and show support for friends, family and neighbors living with this misunderstood neurological disorder.
NJ Walks for TS supports the NJCTS Education Outreach Program, providing in-service trainings, Youth Advocate presentations to schools and hospitals across the state, and awarding more than 200 scholarships to New Jersey high school seniors with TS.
NJ Walks for TS encourages all participants to rally around kids, families, and adults with TS and form teams to both run/walk and fundraise support.
What is Tourette Syndrome?
Tourette Syndrome is a nervous system neurodevelopment disorder. TS become evident in early childhood or adolescence. It is part of the spectrum of Tic Disorders and is involuntary, repetitive movements and vocalizations sounds that are made seemingly without realizing it. Tourette Syndrome and other Tic Disorders are not rare. The current estimates are that 1 out of every 100 children between the ages of 5-17 in the United States has TS.

NJCTS provides referrals for medical diagnosis, treatment and psychological services; coordinated family support among partner and community organizations; education and training at medical schools and universities to develop a new generation of professionals who are knowledgeable about TS and its associated disorders; and outreach to practicing physicians, educators, and medical professionals.