Juvenile Diabetes Research Foundation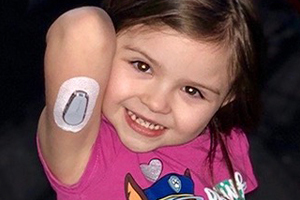 The Susan & Jack Holender Children's Fund has partnered with  Juvenile Diabetes Research Foundation (JDRF). JDRF is the leading global organization funding Type 1 Diabetes (T1D) research to accelerate life-changing breakthroughs to cure, prevent and help find a cure for type one diabetes and improve the lives of those affected by this disease.
On Sunday, October 27, 2019 we participated in the annual JDRF One Walk in Warminster PA along with our daughter Wendy and her husband Mike and over 1000 other participants. It was a very windy and rainy-day event where dedicated walkers, volunteers, sponsors and JDRF staff come together to help change the future for everyone with Type 1 Diabetes. As of now, this event raised over $201,692 and still counting. Thank You All!
What is Type 1 Diabetes?
Type 1 Diabetes is an autoimmune disease that strikes both children and adults suddenly. It has nothing to do with diet or lifestyle. If you have T1D, you must constantly monitor your blood-sugar level, rely on injected or infused insulin and carefully monitor you're eating and activity. It is a serious and stressful disease to manage. You cannot prevent it–and currently, there is no cure.
The Susan and Jack Holender are dedicated and hope to improve the health and quality of life for children and those who struggle with type 1 diabetes reach their potential while bringing meaning to their live and smiles to their faces.
In addition to the JDRF event, the Susan and Jack Holender Children's Fund participates in a variety of projects that promote the health and welfare of children. Because we have an all-volunteer staff, every dollar raised goes directly to medical care, research, and support of children in need. Please donate to the Susan and Jack Holender Children's Fund so that we may continue supporting important projects like (JDRF) Juvenile Diabetes Research Foundation.