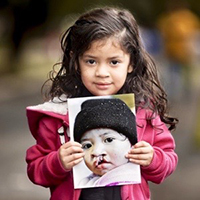 Every three minutes, a child is born into the uncertainty of life with a cleft lip or cleft palate. Operation Smile is an international medical charity that has provided hundreds of thousands of free surgeries for those born with cleft lip, cleft palate or other facial deformities. In 2017 alone, Operation Smile provided more than 21,000 patients with surgery and dental care, thanks to the support of more than 6,000 medical volunteers from 67 countries.
The Susan and Jack Holender Children's Fund is honored to help support Operation Smile's mission to enable children to live free of the hunger and thirst, social isolation, difficulty with speech, and feelings of hopelessness that so many patients face.
For as few as $240 and in as little as 45 minutes, Operation Smile can provide life-changing surgery to a child in need. Without surgery, 9 in 10 children born with cleft conditions could die. Yet, for many families in low- and middle-income countries, surgery is not an option. Since 1982, Operation Smile has been dedicated to finding these families around the world and providing them with free, high quality surgical care. For more information, please visit www.operationsmile.org.
The Susan & Jack Holender Children's Fund is dedicated to bringing comfort and hope into the lives children. We are dedicated to helping the sickest of children who face the most difficult diagnoses. We believe every child should have the right to a happy and healthy childhood.