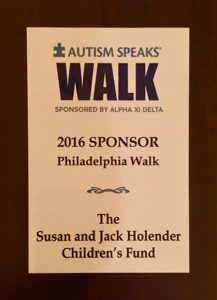 Susan & Jack Holender Children's Fund is proud to announce receipt of the 2016 Autism Speaks Philadelphia Award.
On March 24, 2017 – Autism Speaks held the 2016 Philadelphia Awards ceremony to celebrate all of the great accomplishments of sponsors and top teams and individuals! There was also an update on the great work Autism Speaks is doing in the field of research and how that translates locally through Autism Speaks Treatment Network at the Children's Hospital of Philadelphia.
The Autism Treatment Network (ATN) is the first network of hospitals dedicated to improving the medical care of children with ASD. The goal of the ATN is to improve the medical care for all children with ASD by integrating clinical care and research to develop evidence base practice, standardize care, and reduce healthcare variation.
Susan & Jack are humbled and honored to have been recognized for this award. They express their deepest thanks and appreciation to everyone involved for being chosen as a recipient of the 2016 Autism Speaks Philadelphia Award. The Susan and Jack Holender Children's Fund is proud to have been a Community Investor Sponsor supporting the annual Autism Speaks Walk on Saturday October 22, 2016 in Philadelphia Citizens Bank Park. Susan & Jack has also helped raise public awareness via social media of the wonderful work that Autism Speaks does. Susan & Jack are looking forward to continue their support for Autism.
About Autism Speaks
Autism Speaks is dedicated to promoting solutions, across the spectrum and throughout the lifespan, for the needs of individuals with autism and their families through advocacy and support; increasing understanding and acceptance of autism spectrum disorder; and advancing research into causes and better interventions for autism spectrum disorder and related conditions. Autism Speaks enhances lives today and is accelerating a spectrum of solutions for tomorrow.
Susan & Jack are dedicated to bringing comfort and hope into the lives of children. 
They also believe every child should have the right to a happy and healthy childhood.