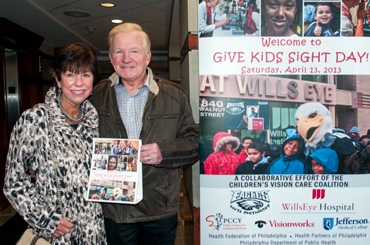 On a sunny April 13th, Susan and I had the pleasure of taking part in Give Kids Sight Day, the fourth such annual event initiated and coordinated by Wills Eye Institute. Benefitting over 700 uninsured and underinsured Philadelphia school children, the one-day program offered free eye screenings, free eyeglasses and full comprehensive ophthalmologic exams, as needed, to children who otherwise would have no access to eye care.
As the nation's first eye hospital, Wills has been a leader in eye care for over 180 years and has played a seminal role in shaping the field of ophthalmology, serving the community and beyond.
Susan and I had the opportunity to tour the entire hospital with Wills Eye Institute's CEO Joseph Bilson and witness the hospital's motto "Skill with Compassion" in action as the staff lovingly attended to the children. It was a very special day for us as we ourselves interacted with the boys and girls who were receiving eye care.
Completely moved by what we saw, it was our great pleasure at the end of the day to make a grant from the Susan and Jack Holender Children's Fund to Wills Eye Institute in support of Give Kids Sight Day. We hope it will help this very worthwhile program continue to provide vital ophthalmologic services to Philadelphia schoolchildren for years to come.